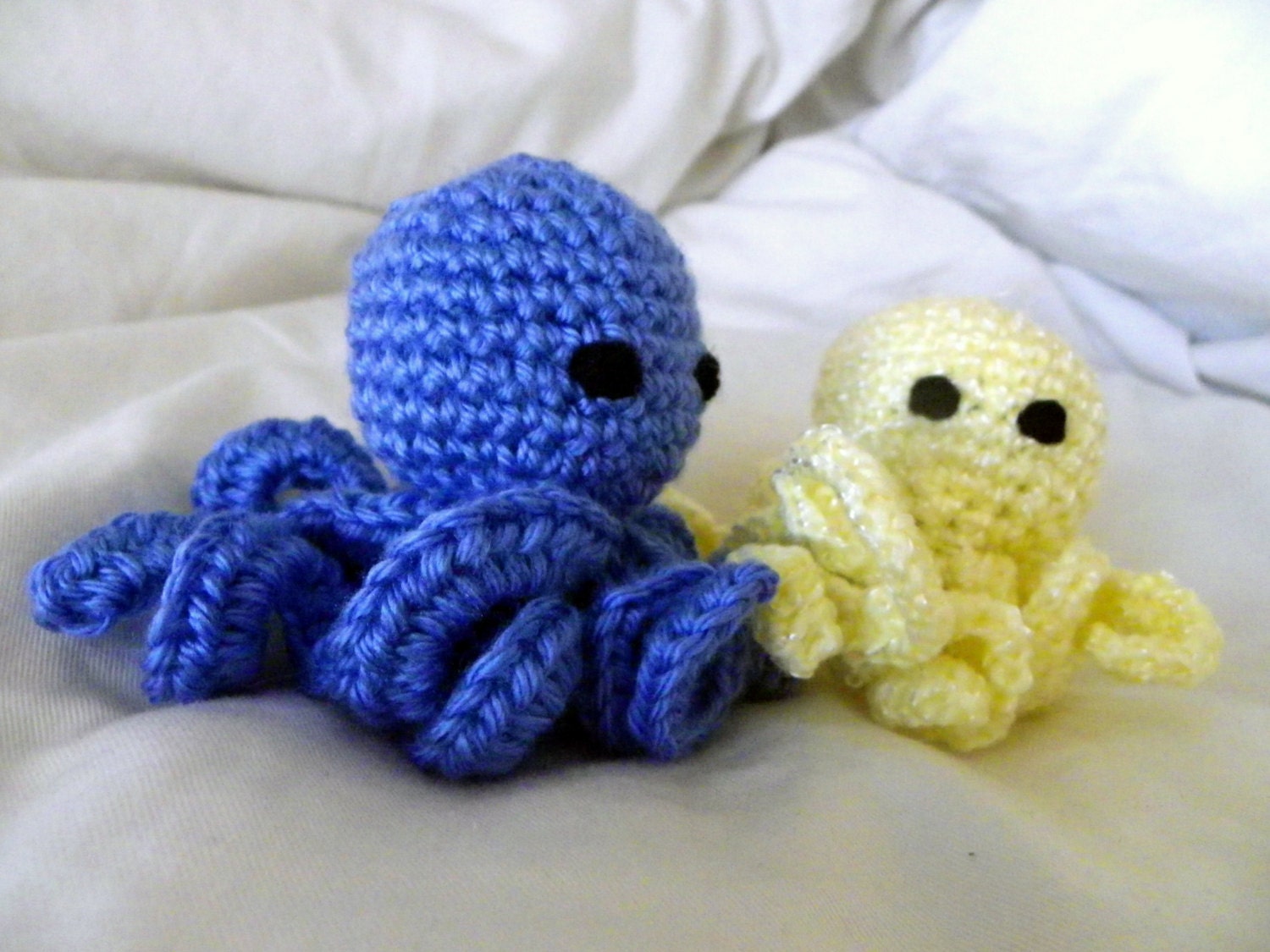 A couple months ago one of my friends asked me to make her an octopus, and so I went to make it. I looked around for some patterns, and saw a few I liked, but they all required sewing which is something I hate. So I designed my own.
These octopi are also available through my
Etsy Store
.
(Mostly) No Sew Crochet Octopus Pattern
To make this pattern, you need yarn and a crochet hook that is 1-2 sizes smaller. I tend to use worsted weight and a size H/5mm hook. You also need stuffing, and whatever type of eyes you like to use, I sew yarn eyes.
Rnd 1: Ch 2 and work 8 sc into second ch on hook
OR
8 sc into a magic ring (8 sc)
Rnd 2: Inc around (16sc)
Rnd 3: *Sc, inc* around (24 sc)
Rnd 4: *2 sc, inc* around (32 sc)
Rnd 5-9: Sc around (32 sc)
Rnd 10: *2 sc, dec* around (24 sc)
Rnd 11: *Sc, dec* around (16 sc)
Stuff head
Rnd 12: Dec around (8 sc)
Rnd 13: Sc around (8 sc)
The tentacles are worked into each sc from the last round. I have found that you get the curliest tentacles when you work the hdc into the back loop of the ch instead of going through both loops.
*Ch 12, 2 HDC into 2nd ch from hook, 3 HDC into each ch, sc into next sc* Repeat for all tentacles
Edit-
I forgot about to show how to get rid of the hole in the bottom. You don't necessarily need to use a needle to sew this, you could just pull it through with your hook (that's what I used to do before I got needles).
When you finish the last tentacle, sl st into the first st and bind of. Cut a tail long enough to weave through the hole, with enough room to maneuver. Then you just sew into the stitches, all around and back through the first stitch you went through. Pull tight, and weave in the end.